Emergency Preparedness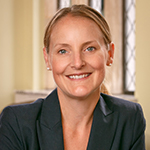 Brittany Schaal, is University of Richmond's director of emergency management and emergency planning. As such she ensures the university community is prepared for weather-related emergencies. She provides the following tips:
"Knowing what to do before, during and after an inclement weather is a critical part of being prepared and may make all the difference. Plan ahead. This means having your own food, water, and other supplies such as a flashlight with extra batteries, first aid kit, cell phone charger, and medications, stored in an easy-to-carry container or bag," Schaal says.
To connect with Schaal contact Sunni Brown, director of media and public relations, at sbrown5@richmond.edu.